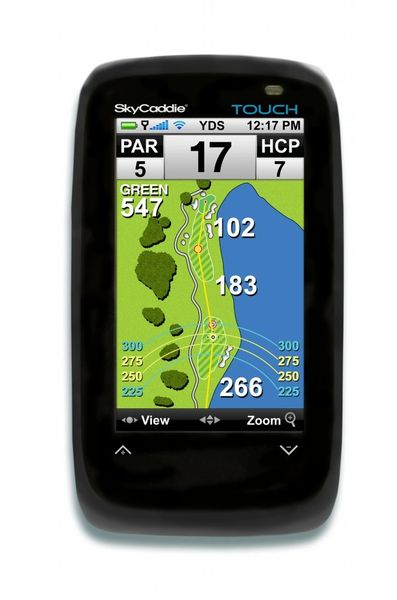 SkyCaddie - TOUCH
Unmatched Accuracy • Touchscreen • Preloaded
The SkyCaddie TOUCH, the flagship of SkyCaddie's new product lineup, features a glove-friendly, easy-to-use touchscreen with Bluetooth connectivity to provide golfers with the ultimate user experience and convenience when coupled with a FREE mobile app. The TOUCH features a hi-resolution, sunlight-readable, color display that amplifies the clear superiority of SkyCaddie's 35,000 preloaded, high-definition maps over its competition.

Don't compromise your game. Play with the most-trusted rangefinder in golf and start saving strokes. Nothing Else Comes Close!
---
The SkyCaddie TOUCH Makes All Other Rangefinders Obsolete!
Bluetooth convenience makes the need for preloaded maps obsolete!
Golf GPS products with preloaded course maps are outdated before you buy them. With its new Bluetooth wireless capabilities, the SkyCaddie® TOUCH provides easy access to the most reliable, most accurate, and up-to-date course maps in the game without a hooking up a cable to your computer. Just use your mobile device with our new, FREE SkyGolf 360 app to keep your favorite course up-to-date with ease while enjoying the convenience of over 35,000 courses preloaded and ready to play.
---
Enjoy Bluetooth Connectivity Wherever There Is Mobile Phone Coverage
Simply connect to your mobile device with our FREE SkyGolf 360 app for fast, easy downloads of the most reliable course maps in golf. After your round, upload your scores instantly to the SkyGolf Cloud for analysis of your game, all without cables or computers.
---
SkyCaddie is the Simplest, Most Powerful Way to Measure Distance
INTELLIGENT AUTOMATION provides an almost touchless and buttonless experience from the parking lot to the 19th hole. Whether you prefer only basic distance information or want everything the SkyCaddie® has to offer, simple on-off settings allow you to have it your way. Intelligent automation makes sure critical DISTANCE information is ready before you need it.
Auto Course Selection finds and loads your course

Auto Hole Selection advances to the next hole before you get there

Auto Zoom advances to the best view of the hole as you proceed from tee to green

Auto Distance updates every second from your location

Auto Green Depth from any angle of approach


AutoView enables immediate access to HoleVue™, IntelliGreen®, and the Scorecard — with a simple turn of the wrist.
---
Hardware
Screen – 3-inch (7.6 cm), durable, touch-enabled, high-resolution, sunlight-readable, transflective, LCD color, backlit screen.

Battery – Rechargeable, lithium-ion polymer battery up to 12-14 hour of play

Size and Weight – 4" H x 2.3" W x 0.7" D / 10.1 x5.8 x 1.7 cm; 109.5 g / 3.8 oz

Water Resistant – IPX 7 Rating

Languages – English, Chinese, French, German, Japanese, Spanish, Swedish

---
Package Includes
SkyCaddie TOUCH GPS Rangefinder

Rechargeable lithium-ion polymer battery

USB cable

Heavy-duty belt clip


User documentation​