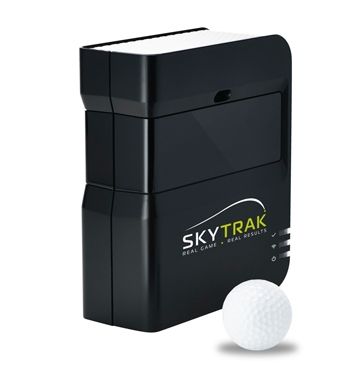 SkyTrak
The SkyTrak is currently on sale! This is a limited-time rebate.
INTRODUCING SKYTRAK
The first personal launch monitor of its kind, SkyTrak™ connects wirelessly to your iPad Air, then accurately captures and displays launch data and ball flight as soon as you hit the ball. You'll see the ball fly and receive instant feedback on every shot.
The SkyTrak™ Personal Launch Monitor is a complete Practice and Play System designed for golfer's use at home or away from the course. SkyTrak™ provides commercial accuracy and reliability in measuring ball flight data, but at a consumer affordable price.​
SkyTrak™ is designed with the golf consumer in mind. As a personal launch monitor, SkyTrak™ enables you to have your own practice range, hit at simulated targets, play challenges, participate in games and enjoy your practice time much more than ever before. The most important difference in SkyTrak™ is its revolutionary technology to provide the accuracy and reliability of a commercial quality system, at a fraction of the price.
---
PRACTICE WITH SKYTRAK
SkyTrak is a revolutionary development in launch monitor technology. It's a small package with a lot of power. Here are some of the advanced features you'll find in SkyTrak. We think you'll agree, it's in a class of its own.
Photometric Launch Monitor

Completely Wireless Design

iPad Compatible

PC Compatible

Professional-Grade Accuracy

Robust Set of Measured Parameters:

               -Ball Speed

               -Launch Angle

               -Back Spin

               -Side Spin

               -Side Angle

               -Spin Axis

               -Total Spin
---
SKYTRAK CHALLENGES



Why not make improvement fun and entertaining at the same time? With SkyTrak's challenges and games, you will improve, even if you don't realize you are learning. Over time, by playing games and challenges, your shot making skills will improve on the golf course. Choose from several multiplayer or single player challenges.​
---
IMPROVE YOUR GAME
Do you find yourself struggling with a particular situation on the course? Do you see a shot that a more experienced golfer makes and want to learn how to do it? With SkyTrak™ you can work on these shots in the privacy of your home, so the next time you try that shot live on the course, you're more confident and ready.

---
SKILLS ASSESSMENT
SkyTrak's Skills Assessment feature is the foundation of our new Game Improvement module. Create up to 10 target stations, decide on the number of shots for each, then work your way through your bag. With sessions tailored specifically to you, you'll be able to spot strengths and weaknesses in your game over time. Targeted reporting on green accuracy, consistency/dispersion, and tendencies, helps you reinforce your strengths while improving any deficiencies.

---
SPECS & REQUIREMENTS
SkyTrak Unit

​

Photometric launch monitor




Accelerometer-based internal leveling

 
​system

No calibration required

Dimensions: 5.75in L x 6.75in H x 2.5in W


Weight – 1.7lbs​



​​Launch Data Accuracy


Ball Speed: 0-200mph +/- 1mph

Launch Angle: 0-55° +/- 1°

Back Spin: 0-12,000rpm +/- 250rpm

Side Spin: 0-4,000rpm +/- 250rpm


Side Angle: 0-20° +/- 2°



​​​Power and Battery


Built-in rechargeable lithium-ion battery

Up to 5 hours of continuous use


Micro USB charging cable included



​​​​Wireless Connectivity Options


Connects directly to iPad Wi-Fi (NO Internet access in this mode)

Connects to iPad Wi-Fi through router/home network (Internet Access available)​
Hardware Compatibility

iOS:

SkyTrak requires 3D graphics support. The following passed compatibility testing:


iPad Air

iPad Air 2

iPad Mini 2 (with Retina Display)

iPad Mini 3

iPad Mini 4


iPad Pro​



PC:

​
Windows 7, 8, or 10

Intel Core 2 Duo @ 2.0GHz or higher

2GB RAM or higher

​

​​In the Box


SkyTrak Unit

SkyTrak Companion App


USB Charging Cable

SkyTrak Protective Metal Case

 (Optional) - 

The SkyTrak Protective Metal Case is the 'Official Metal Case Authorized for use with SkyTrak'. The smart design allows you to plug in a wall charger without removing your SkyTrak. Easily access the power button and see the LED'S through the precisely positioned openings. Comes with adjustable legs for leveling or raising of the SkyTrak. An integrated alignment-stick channel holds any standard rod, dowel or stick firmly against the face of the unit to insure target line accuracy.




Laser cut from 13-gauge steel with a durable wrinkle-finish powder coat. This strong and durable case offers great protection from light drops, scratches and bumps. It is a great way to protect your investment.


Get it on the App Store or for Windows PC