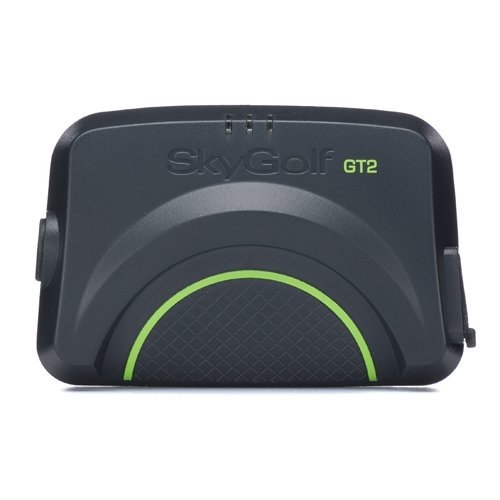 GameTracker GT2
Real-time shot tracking with an integrated, full featured rangefinder and scoring app


---
SkyCaddie Mobile

--

Full-Featured GPS Rangefinder App
GameTracker is the only product to offer a fully integrated, full-featured GPS rangefinder and scoring app. The SkyCaddie Mobile™ GPS rangefinder app not only gives you all of the distances you need to play each shot but shows the results overlaid on vivid HD maps too!
TrueGround Course Maps*

Only SkyGolf walks every course with professional survey-grade equipment to create the most-complete, most-reliable and most-precise course maps in the game.
Interactive HoleVue in Vivid HD*
Play faster with an eagles's eye view of the entire hole. With a simple TAP on the screen, measure to any point on the hole and get the critical information you need to layup in front of, or carry, hazards.
Up to 40 geo-referenced targets per hole are integrated within HoleVue. Simply pinch and zoom HoleVue to seamlessly reveal the critical distances to all hazards, carries and layups — not just a few calculated layup yardages provided in other apps... all without changing screens to a list of targets that are hard to understand.
Detailed Green Information*
View the exact shape of the green and get distances to the Front, Center and Back from anywhere on the course.
Advanced Scoring & Stat Tracking*
Track your game like a Pro with Advanced Stats including Scoring Average, Fairway Percentage, Greens in Regulation Percentage, Putting Average, Scrambling Percentage, Driving Distance, Sand Saves Percentage, Number of Chips, 3-Putt Avoidance, Bounce Back Percentage, plus more!
* Requires SkyCaddie Mobile Premium. A 1-year plan is INCLUDED with purchase of a new GameTracker system, which will unlock all advanced features.
Get it on the Apple Store or on Google Play


---
SkyGolf GT2

--

​Wearable GPS Booster / RFID Sensor
​

Only the SkyGolf GT2™ replaces your smartphone's location services with its powerful GPS engine and antenna to provide golfers with distances they can trust. Accuracy is also enhanced by the same ground-verified, TrueGround® course maps that make SkyCaddie the #1 rated and most trusted rangefinder in golf!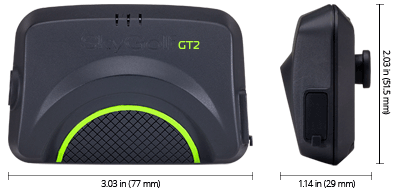 ---
SmartTags

--

Add Intelligence To Your Clubs
​

Simply fit SmartTags™ at the butt end cap of each grip and these ultra-lightweight, durable tags are used to identify each club in your bag with the GT2 and SkyCaddie Mobile. SmartTags behave like an electronic inventory system; simply pull the club out of your bag, wave the tag close to the GT2 RFID sensor, and take your shot. GameTracker automatically captures the club you used and measures your shot, preventing distractions caused by manual shot tracking and maintain a steady pace of play.
---
SkyGolf 360

--

​Online Game & Analysis Sharing
​

All of your GameTracker data on SkyCaddie Mobile is wirelessly uploaded to your My 360 personal performance locker within the SkyGolf 360 Cloud. Once uploaded, you can review your performance from any mobile or desktop device, without the need for a cable!
​Gain insight with advanced scoring and stats: fairways hit, GIRs, putts per round/hole, and more!

Identify your game's strengths and weaknesses using post-round game analysis tools

Manage your account: Activate, transfer, upgrade and renew memberships

Access and redeem your member benefits

Search and manage TrueGround Course maps for your SkyCaddie rangefinder

Share scores, stats and chat with friends on the news feed


Book tee times at participating public and private golf courses
Share your shots in real-time with live scoring
Automatically share your round in real-time with friends, family, coaches or your golf instructor. The shots you capture on-course are automatically sent to the SkyGolf 360™ Cloud so your friends can follow your round from the first tee to the 18th green.
TargetPoint™ dispersion tracking
Only GameTracker allows you to pick your target, get your distance and track the dispersion from your aim point. This patented SkyGolf® technology delivers accurate and comprehensive game statistics that can't be found anywhere else.

Simple in-round and post-round editing
Whether you need to modify, add or delete a shot, you can easily edit your round in real-time on SkyCaddie Mobile or post-round on your smartphone, tablet or laptop with SkyGolf 360.

Comprehensive and flexible stat tracking
Designed to be fun and flexible, SkyGolf's GameTracker system let's you track as many or as few stats as you want – over 50 stats in all! That's more than four times the stats offered by the competition. What's more, if you don't tag or track a shot with GameTracker you can still keep an accurate score. All captured shots are automatically sent to the SkyGolf 360™ Cloud, where simple, easy-to-understand charts and graphs help identify strengths and weaknesses in your game.


---
Specs & Requirements
What's Included

SkyGolf GT2 wearable GPS/RFID sensor

15 SmartTags with storage pouch

SkyCaddie Mobile for iOS GPS rangefinder app (must be downloaded from the App Store)

Prepaid card for 1-year access to the SkyGolf 360 Cloud, SkyCaddie Mobile GPS app, and advanced course features and more!

Divot tool with SmartTag

Belt clip and micro USB charging cable

---
SkyCaddie Mobile App Requirements*
iPhone

®

5 and above

iOS 7.0 or higher

* Compatibility with Android devices may vary.

---
SkyGolf GT2 Specifications
3.03" wide x 1.14" deep x 2.03" high | 77mm x 29mm x 51.5mm

Rugged, impact-resistant plastic casing with IPX6 rating. USB cover and sealed power switch.

Bluetooth

®

Smart Ready.

Hybrid GPS/SBAS 50-channel GPS engine. Uses signals from WAAS, EGNOS, MSAS in addition to GPS

High-performance, helix GPS antenna, designed to maintain optimal signal performance in close proximity to the human body

Rechargeable Lithium Polymer (LiPo) battery rated to last up to 12 hours of play/standby per charge

Built-in accelerometer sensor enables AutoSwing technology

Includes USB charging cable

---
SmartTag RFID Specifications
.866" wide x .764" tall | 22mm x 19.4mm

No battery required for tags